Eve's Fund for Native American Health Initiatives promotes literacy, injury prevention, mental health and educational programs for young Native Americans.  Currently, our efforts are focused on students in the Four Corners region of the United States (Arizona, Colorado, New Mexico, and Utah).   It was established in 2005 by Dr. Robert M. Crowell, a retired neurosurgeon, in memory of his deceased daughter, Eve Erin Crowell.  Eve's Fund is a non-profit 501 (c)(3) organization incorporated in New Mexico and all donations are tax deductible.
Recent Happenings
Eve Crowell's Inspiration & Legacy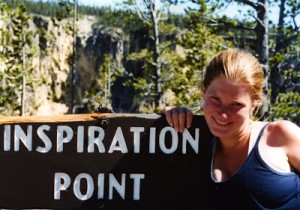 Eight years ago today, my beautiful 30 year old daughter, Eve, died in Los Angeles. I didn't think I could, or would, continue living.  Somehow, through all of the shock, numbness, helplessness, sadness, missing, yearning and despair, I have survived.
As a health professional, I knew that a tragedy could happen to anyone at any time. I had just never internalized that "anyone" could be me.
Wishing you a happy and safe holiday season from all of us at Eve's Fund
December 2012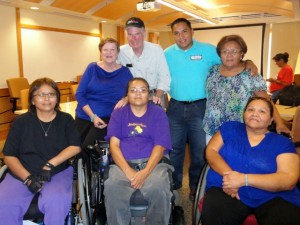 Yá'át'ééh Friends!
As 2012 draws to a close, we want to thank you for all you have done to support us in promoting hope and wellness for Native American youth. Eve's Fund has had another good year and we continue to make a difference in the lives of young people across the Navajo Nation. Here are a few highlights:
More than 2,500 students have a greater chance of avoiding brain and spinal cord injuries thanks to our dedicated ThinkFirst Navajo team. The personal stories of our VIP speakers–who all live with paralysis–made quite an impact at school presentations across the Reservation.
Hundreds of elementary students are reading more (and enjoying it) after their schools received a Teaching Bookshelf filled with books from the popular Magic Tree House series.
Sixteen young Navajos have become positive role models for their friends, family, and community through their experiences as members of Eve's Fund Boy Scout Troop 928.
Six dedicated students at Navajo Preparatory School have a better shot of attending college after receiving an Eve's Fund scholarship, which will allow them to focus on their studies instead of fees and finances.
Navajo youth health program receives more than $10K in grant funds
By Jenny Kane jkane@daily-times.com
11/08/2012
FARMINGTON — Eve's Fund for Native American Health Initiatives received more than $10,800 from the Con Alma Health Foundation.
The award was one of 22 grants given by Con Alma to New Mexico nonprofits working to support long-term systemic changes that will improve health in the state.
Eve's Fund will use the grant to expand its ThinkFirst Navajo Injury Prevention Program, which reduces brain and spinal cord injuries and fatalities among at-risk Navajo youth and teens by providing culturally sensitive, free education to schools on the Navajo Nation.
"Our program teaches children in grades one through 12 how to avoid risky behaviors that can cause brain and spinal cord injuries, and death," said Barbara Crowell Roy, president of Eve's Fund.
In 2013, ThinkFirst Navajo expects to teach 3,000 to 4,5000 students about serious injuries related to vehicle crashes, sports injuries, alcohol, violence and other factors.
Navajo speakers with paraplegia are scheduled to make presentations at 30 or more schools across the Navajo Nation.
Read more > Daily Times Con Alma