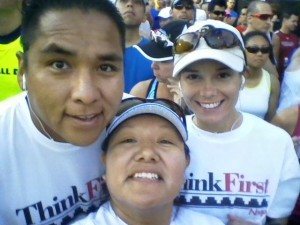 ThinkFirst Navajo Team: Echohawk Lefthand, Matti Dodson & Christa Zubieta
On 10-10-10, more than 38,000 runners participated in the Bank of America Chicago Marathon. We were proud to have three runners representing ThinkFirst Navajo, and even more proud to say that all three members of the team finished the race.
Echohawk Lefthand, Christina Zubieta, and Matti Dodson all completed the 26.2-mile course, and together they raised more than $3,200 for ThinkFirst Navajo's injury prevention programs.
Matti, a Wisconsin resident, recently turned 40. She was inspired to commemorate this phase in her life by running a marathon and raising money for ThinkFirst Navajo's education programs. You can read about Matti's journey to race day on her Facebook page,
Run Matti Run
.
Through their efforts, the team raised awareness of ThinkFirst Navajo, and their success was reported on by the Farmington, New Mexico, newspaper,
The Daily Times
.
With the funds raised by this dedicated ThinkFirst Navajo team, we're grateful to be able to reach more Navajo youth with our injury prevention message. If you've been inspired by their story, please consider making a contribution to our ThinkFirst Navajo program. You can learn more about what we are doing by visiting our ThinkFirst Navajo web page.