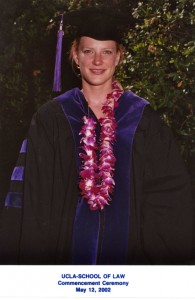 Eve Erin Crowell at her graduation from UCLA School of Law
"No skill is more critical to the future of a child,
or to a democratic and prosperous society, than literacy." ~ Los Angeles Times
To mark the 6th anniversary of Eve's death on February 24, 2005, Eve's Fund has established a scholarship program for Native American high school students.
Each year, Eve's Fund will provide scholarships for young Native Americans to assist with tuition at college-preparatory high schools and technical and vocational schools.
While several of Eve's Fund's current educational programs are aimed at elementary-age students, this scholarship program addresses the educational needs of Native high school students.
Overall, nearly 50% of Native American students drop out of high school before graduation. Of those who do graduate from high school, only 5% go directly to four-year colleges and only 10% of those students graduate in four years.
These daunting statistics relate to historical trauma, poverty, suicide, domestic violence, teen birth, and substance abuse at rates higher than the national average. Hope is in short supply
.
We will provide more details about the Eve's Fund Scholarships in the coming months, including application requirements and deadlines.
In the meantime, if you decide you would like to support this new Eve's Fund initiative, please donate online through our secure Pay Pal account (by specifying scholarship program
), or by sending a check to:
Dr. Robert M. Crowell
Eve's Fund for Native American Health Initiatives
180 Elm St., Ste.1, PMB 168
Pittsfield, MA 01201
On the sixth anniversary of Eve's death, we hope you will remember our daughter by visiting the links provided on the right side of this blog. Even if you never met her, please find a way to recognize her life.
With warm thanks from Eve's family,
Barbara Crowell Roy
Bob Crowell