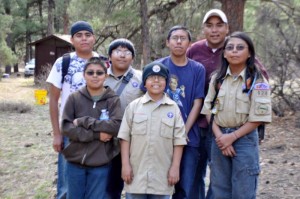 Scout troop 928 members led by Scout Master Echohawk Lefthand (top upper right) at a recent
camporee in Colorado. Click on the album below to see more photos from recent hikes and activities.
In March, Scout Troop 928, led by Scout Master Echohawk Lefthand, attended a "camporee" at the Ute Campground in Colorado. During the camporee, each of the 10 troops had to use teamwork to build pioneering projects such as a bridge and catapult.
Troop 928—also known as the "Penguins"—took second place overall in camporee competitions. They also won top honors in the cooking competition for their chicken wraps, made with cooked chicken strips, spinach, bell peppers, lettuce, granola, cranberries, and poppy seed dressing. The six boys who attended from Troop 928 were very proud of their accomplishments during the camporee!
Eve's Fund's scout troop has been very active since its first meeting in 2010.
Last year, the boys participated in the 13th annual Walking Together for Healthier Nations walk and the troop plans to participate again this May.
They have also "carried the colors" during the homecoming parade in Red Mesa Arizona and have gone on several hikes in the area. With each activity, the boys are building character, self-esteem, and hope.
The troop is looking for more members, so if you know of any boys in the Four Corners area, please contact Echohawk Lefthand at: Echohawk.Lefthand@ihs.gov.