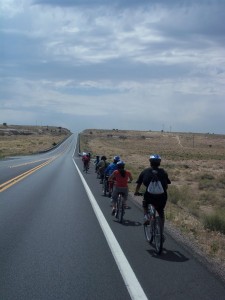 By
Jeannette Rivera and Echohawk Lefthand
Living in the Four
Corners region of the southwest United States, we are surrounded by the vast
and beautiful scenery of mesa bluffs and multicolor sunsets.
Over time, however,
we often become so accustomed to these nearby landscapes that we no longer
"see" them. But as a group of local Navajo youth recently learned, there is a
great way to rediscover the astonishing beauty of this high desert area: on a
bike.
On June 28-30, a
group of 13 students (ages 10-17) from the Bluebird Recreational Camp—led by
Northbear Fragua and Eve's Fund Program Director Echohawk Lefthand–rode about
60 miles from Teec Nos Pos, Arizona, to Montezuma Creek, Utah, to Red Mesa,
Arizona.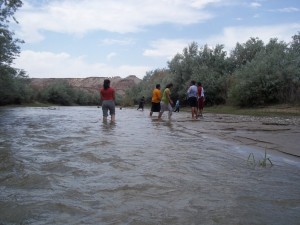 This wasn't just
an easy ride to enjoy the scenery, however. In fact before departing, Northbear
warned the riders: "This trip is going to test you mentally, physically, and
maybe even emotionally."
After some
instructions and a bike tire repair, the group peddled single-file down the
secondary road. Five miles clicked by easily, but the first tough hill
surprised most of the riders. Unaccustomed to shifting gears, the campers used
determination to overcome the hill. Sips of water and brief rest stops helped
them push on.
Remarkably, the
group peddled faster than anticipated. Arriving at the first campsite, everyone
was delighted to cool off by wading knee-deep in the San Juan River. After
setting up the tents, the campers made a healthy dinner before biking back down
to the river to watch the sunset. Unfortunately, a gusty desert wind flattened
the campsite, requiring everyone to pitch the tents once again.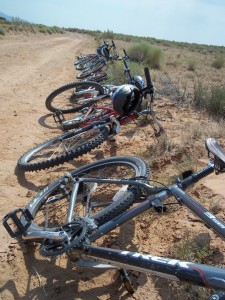 The second day was
the most grueling. Facing temperatures up to 108 degrees, the group peddled 26
miles to Montezuma Creek. Due to high winds and driving rain, the campsite was
relocated to Echohawk's home. The campers enjoyed a spaghetti dinner and a
movie before setting up their sleeping bags in the living room.
On the final day,
the group rode from the Four Corners Regional Health Center to Red Mesa Chapter
House, covering 17 miles over back roads. As the campers reached their final
destination, Chapter officials gave everyone a congratulatory high-five and a
hot lunch.
Echohawk and Northbear
congratulated the riders on their accomplishment, telling them, "Not every kid
can say they did a three-day bike ride this summer."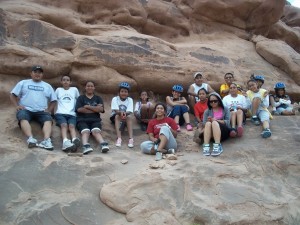 Despite a few
falls, scrapes, and tears, the campers enjoyed themselves. They also learned
more about healthy lifestyles while sharing an adventure they can talk about
for years to come.
This youth bike
trip was organized by the Health Promotions Department of the Four Corners
Regional Health Center, an Eve's Fund partner since 2007. Eve's Fund paid for
all of the helmets worn by the young campers through its award-winning ThinkFirst Navajo injury prevention program.
Jeannette Rivera is a summer intern with Eve's Fund
and is a member of the Class of 2012 at Williams College.
Echohawk Lefthand is School Health Coordinator at
the Four Corners Regional Health Center in Red Mesa Arizona and Director of
Eve's Fund's ThinkFirst Navajo Program.