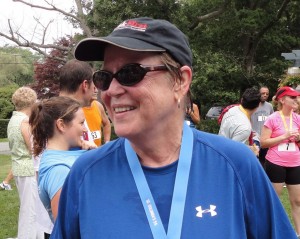 Barbara Crowell Roy
Dear Friends of Eve's Fund,
Yes, that's me–Eve's mom–Barbara Crowell Roy.
This summer, I did something I never thought possible…I got off the couch and started running. I did three 5Ks and even came in first in one of them. (Luckily, there weren't too many participants in my age group!)
Those of you who know me well know that physical exercise isn't something I've ever really loved. Eve was an athlete and at least weekly she would bug me about the need to get fit. I can still hear her saying, "Mom, you need to live a long life to take care of all your grandchildren. I just can't understand why you don't want to move."
With Eve gone, her dad, brother and I have kept her memory alive through Eve's Fund…promoting hope, wellness and injury prevention for young Native Americans.
Now, just in time for what would have been Eve's 37th birthday on November 4th, we have started a Running for Eve's Fund Challenge on Crowdrise. We're trying to raise $8,000—enough to buy 1,000 bike helmets for kids living in poverty across the Navajo Nation.
Navajo children experience preventable injuries which are three times the national average. We are trying to do something to keep them safe, avoid injuries and save lives.
Please consider donating (just $8 buys one helmet) and joining our team. Every dollar counts.
If you are planning to run or walk in any kind of race in the next two months, as a team member, you can raise money for Eve's Fund at the same time.
Whether you're signed up for a short fun run with your children…a 5K…10K or even a longer race, you can celebrate your accomplishment and give the race an added purpose by telling your friends and asking them to make a tax-deductible contribution to our Running for Eve's Fund Challenge.
To donate or volunteer, click on this link.