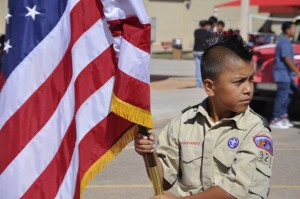 "Once you choose hope, anything is possible."
~ Christopher Reeve
As we look ahead to the New Year with optimism and hope, we'll continue our dedication to literacy, injury prevention, mental health and education initiatives for young Native Americans.
Want to take a sneak peak at our To-Do List for 2012? Here's a snapshot:
Teach 2,500-3,000 school children how to prevent traumatic brain and spinal cord injuries through our effective Think

First

Navajo Injury Prevention Education Program.
Train additional VIP (Voices for Injury Prevention) speakers—all Native injury survivors—on proven methods of teaching injury prevention.
Distribute 500 youth safety helmets in combination with safety essay competitions.
Initiate a "Carrying our Children Safely" program to give car seats to those in need. (On the Navajo Nation, nearly 50% of children under 5 ride unrestrained because their parents can't afford a car seat.)
Expand the Eve's Fund Boy Scout Troop to give more Native youth the opportunity to participate in leadership, citizenship and personal fitness programs.
Donate more than 2,000 books to four elementary schools through our partnership with the authors of the bestselling Magic Tree House series.
Double our scholarship program to give more Native high school students the chance at a college education and a brighter future.
Continue our support of the Native H.O.P.E. suicide prevention program focused on reducing the alarming rate of suicide among young Native people.
We're aiming high because the stakes are so high. Young people's lives are at risk. But with your help, we can provide a path to a better future.
As we gear up for a busy year, we'd like to express our sincerest thanks for your support of the work we are doing in memory of our daughter Eve. Please accept our warmest wishes for a happy, healthy and hopeful New Year.
Bob Crowell, President
bobcrowell@evecrowellsfund.org
P.S. As 2012 begins, please consider making a charitable contribution to Eve's Fund to help us accomplish our mission. Click on the donate button (on the right) to be taken to our secure PayPal site or send a check to Eve's Fund in c/o Robert M. Crowell, MD, 180 Elm St., Suite I, PMB 168, Pittsfield, MA 01201.
P.P.S. If you would like to make a donation in someone else's name (we will send them a card to acknowledge your gift) or support one of our specific programs, please indicate so at the time of your payment.
– – – – – – – – – – – – – – – – – – – – – – – – – – – – – – – – – – – – – – – – – – – – – – – – – – – – – – – – – – – – – – – – – – –