For the 2011-12 academic year, Eve's Fund awarded six $1,000 scholarships to students at Navajo Preparatory School in Farmington, N.M. This amount covered all required student fees at the residential high school.
We're extremely grateful to Elfonzo Nephew of Nova Corporation and Derrick Watchman of Navajo Nation Gaming Enterprise for providing the matching grants that allowed us to double our original funding goal.
While nearly 50% of Native American students drop out of high school, our six scholarship recipients are working hard to reach their goal of attending college.
Read on to learn more about these special students…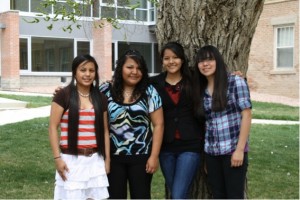 From left to right: Ashley Joe, Christianna Wilson, Nicole Benally and Leisha Yazzie.
Not pictured: Isaiah Yazzie & Kendrick Keeswood
Nicole Benally
Ya'at'eeh! I am a senior from Ganado, Arizona. My clans are Tsi'naajinii (Black Streak Wood Clan), born for Ma'ii deeshgizhnii (Coyote Pass Clan). My maternal grandfather is Todichinii (Bitter Water Clan) and my paternal grandfather is Tachinii (Red Running into Water Clan).
When I graduate, I plan to attend New Mexico State University to major in Environmental Engineering. I would then like to transfer to Humboldt State University to pursue more degrees and certificates in Environmental Sciences, Protection, and Law & Policy.
I have always been very involved in school activities and this year I'm active in volleyball, cheerleading, color guard, basketball, track and field, golf, Navajo Prep Nat'aanii Youth Council, National Honor Society, JROTC, and Student Senate. I love to spend my free time outdoors and having fun. I also love spending time with my friends and family, because without them I would not be the woman I am today.
Ashley Joe
I am born for the Within His Cover clan. My father's side of the clan is also Within His Cover. My grandfather's clan is the Towering House clan and my paternal grandfather's clan is the Bitter Water Clan.
This year, I am a sophomore at Navajo Prep and I am very active in sports, including cross-country, basketball, track, and golf. Of the three sports, my favorite is basketball. I also have a special interest in nature and I love to camp, fish, and hike. My other hobbies include beading, dancing, and swimming.
When I finish high school, I plan to attend Stanford University. I want to get a master's degree in math and science. I also want to go to medical school to become a pediatrician. I love helping other people, especially young children.
Kendrick Keeswood
I am from Teec Nos Pos, Arizona. I enjoy learning about things that are interesting and new. I'm also very interested in music, my culture, and history. I like to stay on task and complete all necessary work because this will benefit me in the future and give me a path to success.
In my spare time, I like reading, talking to my family, enjoying a nice day, and listening to music. My favorite hobbies are golf, writing, making music, and–most of all–making new friends.
Christianna Wilson
I am 18 years old from Farmington, New Mexico. I am the middle child of my three brothers and sister. Because I don't have parents or a legal guardian, this scholarship helped me immensely to continue my high school education.
I am a junior this year and my future plans are to finish high school and get into a great college such as Stanford University. I would like to major in business because some day I would love to own my own bakery. I have a huge interest in baking. I recently got accepted by the LEAD Business program and will attend a one-month summer program in Dartmouth, New Hampshire.
Some of my hobbies are drawing, hanging out with friends, being creative and just having fun when I can. I am glad that I attended Navajo Prep because it has changed my life in many different ways. I also had lots of help from my last foster parents. They encouraged, motivated, and supported me in all the ways they could.
Isaiah Yazzie
I am a sophomore this year and everything is going well. I am keeping my grades up while doing cross-country, basketball, and golf. After high school I want to attend the Uniformed Services University of the Health Sciences and get a master's degree in the medical field. Then, I plan to go to an Ivy League school to get my Ph.D. My goal is to become a physician in the U.S. Public Health Service Commissioned Corps.
Twenty years from now I see myself being the change, not only for me but also the people I will help. For all my grandparents, relatives, and mentors who helped me get though my ups and downs, I want to help them in return and make a better, more suitable and prosperous life.
As a doctor, I will fight against disease and poor health conditions all over the United States. I will change people's lives and find a new cure to make our world a better place.
Leisha Yazzie
I am a freshman and I live in Rock Point, Arizona. My short-term goal is to finish high school and go to college. My long-term goal is to become a pediatrician because I love to work with little kids and babies.
I have not chosen which college I want to attend yet, but I want to go to either Harvard Medical School or Johns Hopkins Medical School.
My hobbies are playing sports like volleyball and basketball. I like to read long, interesting books and I like to do volunteer work. Thank you for awarding me the Eve's Fund Scholarship.
Because not every Native American student can attend Navajo Preparatory School, we plan to expand the reach of our scholarship program to include tuition assistance at vocational and technical schools, and other high-school level programs.

To reach this goal, we are actively seeking corporate partners. If your company would like to support the educational needs of Native students, please contact us at barbaracrowellroy@evecrowellsfund.org.
You can also make a personal donation to support the Scholarship Fund by clicking the Donate button below or by sending a check to Eve's Fund in c/o Robert M. Crowell, MD, 180 Elm St., Suite I, PMB 168, Pittsfield, MA 01201.




Please click below to email to a friend or share on your favorite social network sites.