Injury survivors share personal stories and "Think First" message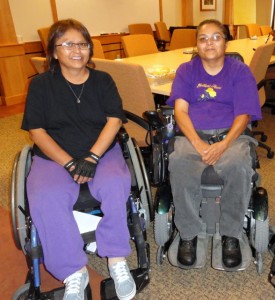 Sisters Darlene Singer (l) and Doris Dennison (r), ThinkFirst Navajo VIPs (Voices for Injury Prevention)
O
n a cold night nearly three decades ago, 23-year old Doris Dennison was in a small pickup truck headed from Tuba City on the Navajo Reservation to Jackson Hole, Wyoming, more than 600 miles away. The truck had one bench seat, with just enough room for three adults.
Doris sat between her sister, Darlene, who was driving, and her husband, who was sleeping. Because there was no room in the truck for a car seat, Doris held her one-month old son, Randall, in his cradleboard, a protective baby carrier used by Navajos.
No one was wearing a seat belt.
In the early morning hours—somewhere in Utah—Doris had just removed baby Randall from his cradleboard when the truck hit a patch of black ice and overturned three times. Everyone was thrown from the vehicle.
Doris' husband was not seriously injured in the crash, possibly because he was asleep at the time. Darlene fractured her spinal cord and was paralyzed from the waist down. Doris—with an even higher spinal cord fracture—became a quadriplegic, paralyzed from the neck down.
Baby Randall died two days after the accident.
Personal Stories Make an Impression on Students
Today, Doris and Darlene share this powerful story with thousands of students each year through our ThinkFirst Navajo program. As you can imagine, the sisters have quite an impact on their young audiences, and when they say that wearing a seatbelt would have protected them from a life of pain and paralysis, the students listen.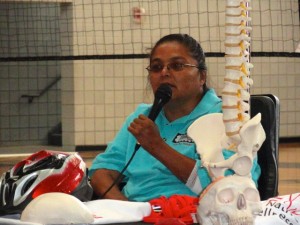 ThinkFirst Navajo VIP, Doris Dennison, sharing her
personal injury story with Navajo high school students.
"Ms. Dennison's sharing of how [the injury] impacted her life and how she is still suffering made a huge impression on the students," said Rosa Gutierrez, Educational Counselor at Tohatchi High School.

The personal stories of our Navajo VIPs (Voices for Injury Prevention) are at the core of the ThinkFirst program. Doris and Darlene—along with VIP Cecelia Fred—have spoken to more than 2,500 students this year, teaching them to "think first and use your mind to protect your body."
Interactive Program Keeps Young People Engaged
Echohawk Lefthand, our program director, also plays a major role in each ThinkFirst presentation. He teaches the students about injury causes and prevention methods, all while keeping everyone engaged with his sense of humor and youthful energy.
To demonstrate how a child's brain can be injured without a safety helmet, Echohawk asks the tallest kid in the audience to drop a cantaloupe. The students watch while the melon explodes all over the floor. When a second cantaloupe is dropped—while inside a helmet—it remains intact. And the students get the message.
In 2012, our ThinkFirst team traveled hundreds of miles around the Navajo Nation, visiting schools in New Mexico, Arizona, and Utah. This was possible because of our donors' generosity and the financial support we received from the Christopher & Dana Reeve Foundation, which awarded us a second Quality of Life grant.
Thanks to the scheduling wizardry of our new part-time program coordinator, Bernice Lefthand—and the efforts of our entire ThinkFirst Navajo team—we met our goal of reaching 2,500 students this year.
For more information on our award winning injury prevention program, visit our program page here.



Tweet
—————————————————————