December 2012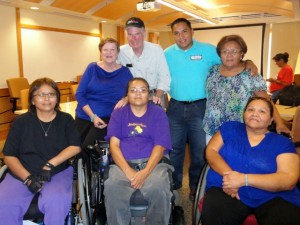 Yá'át'ééh Friends!
As 2012 draws to a close, we want to thank you for all you have done to support us in promoting hope and wellness for Native American youth. Eve's Fund has had another good year and we continue to make a difference in the lives of young people across the Navajo Nation. Here are a few highlights:
More than 2,500 students have a greater chance of avoiding brain and spinal cord injuries thanks to our dedicated ThinkFirst Navajo team. The personal stories of our VIP speakers–who all live with paralysis–made quite an impact at school presentations across the Reservation.
Hundreds of elementary students are reading more (and enjoying it) after their schools received a Teaching Bookshelf filled with books from the popular Magic Tree House series.
Sixteen young Navajos have become positive role models for their friends, family, and community through their experiences as members of Eve's Fund Boy Scout Troop 928.
Six dedicated students at Navajo Preparatory School have a better shot of attending college after receiving an Eve's Fund scholarship, which will allow them to focus on their studies instead of fees and finances.