Today we are kicking off our first Eve's Fund Holiday Charity Challenge in partnership with Crowdrise, The Huffington Post and Craigconnects.
Our goal is to raise $10,000 between November 18 and January 19, 2014 for the Eve's Fund Scholarship Program, which offers financial assistance to deserving Navajo students. In addition, we hope to win one of the prizes given to charities that raise the most money during the two-month campaign.
Last year, the charities involved in this Holiday Challenge raised more than $1 million, so we are excited to be part of a group of people committed to their causes. The real truth is that most people have big hearts and want to give to causes they believe in and value.
Why Eve's Fund Scholarship Program?
Native American teens need your help. Most of these young people live in poverty and face enormous obstacles in their lives, including high rates of suicide, domestic violence and abuse. Without any hope for a better future, nearly 50% will drop out of high school. Among those who do graduate, only 5% will go directly to four-year colleges.
Despite these grim statistics, you can make a difference.
For the past three years, Eve's Fund has provided scholarships for young Native Americans, primarily Navajo, to assist with expenses at college-preparatory high schools as well as technical and vocational schools.
For these students, a scholarship has made the difference between achieving a high school diploma and attending college or dropping out and living in poverty.
Your support can give these deserving young people a better future. You tax-deductible donation can help us expand our scholarship program.
To make a donation now using a credit card, click the Certificate Button below to be taken to our secure fundraising page on Crowdrise.
Please note: At the time you are making your donation, a 10% OPTIONAL Processing Fee will be automatically added on. This does not benefit Eve's Fund or our Scholarship Program in any way. You can eliminate this fee by clicking on the drop-down menu to decline.
DONATE by clicking above
If you are unable to donate online, please send your check to:
Eve's Fund, PO Box 73, Dalton, MA 01227
In the coming weeks, we will be sending out emails to let you know how the campaign is going. We'll also be sharing news about some of our current scholarship students so you can see how much of a difference the scholarships are making in their lives. We know that you have lots of choices when it comes to your charitable giving and we are grateful for any support you can offer.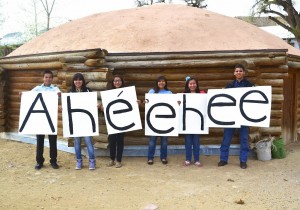 Last year's scholarship recipients from Navajo Preparatory School say "Thank You" in Navajo.
We hope you will help us get donations by sharing this with all your family and friends (see email & social media icons below at the bottom of this post). Thank You.
————————————————————————-