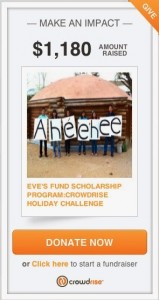 You've probably heard of Black Friday and Cyber Monday. But did you know that today — December 3 — is #Giving Tuesday? It's a new day for families, communities and organizations to come together and
give back
.
We would be honored if you would make a donation to the Eve's Fund Scholarship Program as part of your #Giving Tuesday activities. Your contribution of any amount can make a real difference in a Navajo student's life. You can help an underprivileged teen achieve his or her educational goals and have a brighter future.
We are currently participating in the 2013 Holiday Charity Challenge on Crowdrise, hoping to raise $10,000 for our Scholarship Program by January 19.
We have raised about 12% of that total so far, thanks to the generosity of people who believe in our mission of helping Native American youth.
On #Giving Tuesday, will you help us get closer to our goal? To donate today, please click on the Donate button above or on this link:
http://goo.gl/EuQ9zx
to be taken to our secure Crowdrise site.
To learn more about our Scholarship Program and the students it benefits, visit:
http://goo.gl/aChl0c
Thank you.

Barbara Crowell Roy, President
P.S. Please help spread the word about #Giving Tuesday and Eve's Fund by passing along this message. You can use any of the sharing buttons below. Thanks!
—————————————————————————————-