If our daughter Eve were still alive, she would be celebrating her 40th birthday this year on November 4. Since she was just a few months past her 30th birthday when she died tragically in West Hollywood, CA, it is hard to imagine what her life would be like today, 10 years later.
Would she have fallen in love and gotten married? Had a child or two by now? Continued her success as a corporate litigator? Remained steadfast in her pro bono work fighting for underserved and disabled people? Continued running marathons and participating in triathlons?
Of course we will never know the answers. What we do know is that Eve would have wanted her hundreds of family members, friends, and colleagues to celebrate her life, cherish our memories with her, and keep living our lives to the fullest. She would not have wanted us to be sad.
In spite of our tears and loss, we have tried to turn our grief into action through the creation of Eve's Fund for Native American Health Initiatives. For the past 10 years, we have worked to promote hope and wellness for young Native Americans.
Eve's Fund has worked primarily with youth living on and around the Navajo Nation in Arizona, New Mexico, and Utah. We have established award-winning programs in literacy, injury prevention, and education. We have supported other community organizations that share our values and mission of serving at-risk Native youth. Since beginning Eve's Fund, we have served more than 30,000 young people and teens.
Eve's Fund is Eve's legacy. We know that she would be proud of our efforts in her name.
Several months ago, as part of a peer support meeting funded in part by a Quality of Life Grant from the Christopher and Dana Reeve Foundation, our team (now boasting 10 members) spent several hours examining the work we are doing and the value of our efforts. We all shed some tears when we realized that none of us would be assembled if it weren't for Eve's death.
At the same time, we realized that Eve is at the heart of everything we are doing to support Native youth. Our work is her legacy. We educate, support, recover, give hope, change lives, heal others, and heal ourselves.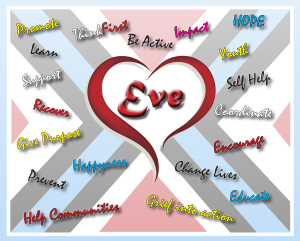 Please join us today in celebrating Eve's life and her legacy. We know she would want you to do that. Here are some things you can do, even if you didn't know her, to bring smiles to our faces.
Visit Eve's memorial website at evecrowell.com where you can read all about her, see lots of photos, and also leave a message and memory in her guestbook.
Check out our new website and all of our current news at Eve's Fund.org.
Tell everyone you know about this beautiful, special young woman who lived life to the fullest, but died too young. Please tell them about Eve's Fund, too. You can share on social media sites or by email below.
Donate to our programs in Eve's memory. We are truly grateful for your support in any dollar amount.
Please stay in touch with us with your thoughts, recollections, and memories. You can reach us at: barbaracrowellroy@evecrowellsfund.org.
We know Eve would be proud of the work we are doing. Please remember her and celebrate with us on this special day. As a dear friend who just recently experienced the death of her young daughter wrote: "Eve was beautiful in all ways. Your tribute to her as her mother is an everlasting prayer of celebration."
With loving thanks from Eve's parents and brother,
Barbara Crowell Roy
Bob Crowell
Wyatt Crowell