You can transform a Navajo teen's life by supporting our Eve's Fund Scholarship Program today.
As of December 30, we have raised $7, 400…74% of our goal. Eve's Fund is participating in the 2014 Crowdrise Holiday Challenge and trying to raise $10,000 by January 6, 2015.
Would you please consider making a donation now–in any amount–to help us finish out 2014 with a bang?!
For our scholarship awardees, financial support from Eve's Fund has made the difference between achieving a high school diploma and attending college … or dropping out and living in poverty.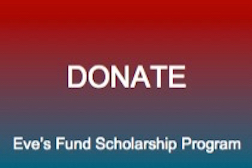 Please click the Donate button above to make a secure online donation with a credit card and see a short "thank you" video from some of our past scholarship recipients.
If you prefer to send a donation check, please mail it to: Eve's Fund, PO Box 73, Dalton, MA  01227.
To learn more about our scholarship program, visit our website at: http://evecrowellsfund.org/programs/eves-fund-scholarships/.
For those of you who have already given generously toward our scholarship program and other Eve's Fund youth initiatives, we thank you again. We are grateful for your support and appreciate you valuing the work we are doing in our daughter's name (Eve Erin Crowell) and memory.
Bob Crowell           Barbara Crowell Roy
P.S. Please help us by sharing with your friends and colleagues.