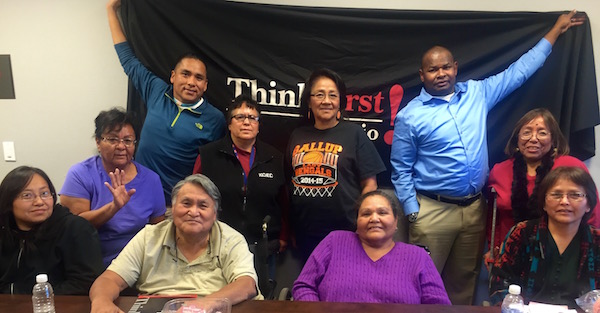 "Once you choose hope, anything's possible."
~ Christopher Reeve, actor
"Prevention is the only cure"
~ThinkFirst National Injury Prevention Foundation
"Books for children of poverty represent hope."
~ Guadalupe Garcia McCall, author
Thanks to the generous support of individual donors and volunteers — as well as grants from the New Mexico Governor's Commission, Center for Development and Disability at the UNM School of Medicine, and Mary Pope Obsorne's Classroom Adventures — Eve's Fund rose to new heights in 2015—our 10th year of operation. We have a lot to celebrate, but there is still so much to be done.
Here are some of the highlights from 2015:
Over 3,000 school children living on or near the Navajo Nation learned how to prevent traumatic brain and spinal cord injuries through our ThinkFirst Navajo program.
Members of our injury prevention team were chosen to make a presentation—"Reducing Traumatic Brain Injury Through Prevention, Education, Inspiration,
Experience and Navajo Cultural Teaching"—at the 2015 Summit on Traumatic Brain Injury and Native Americans in Albuquerque, NM.
100 at-risk children received new safety helmets to help prevent injuries caused by falls, sports, and other recreational activities.
Our Eve's Fund Boy Scout Troop members learned valuable life skills, provided community service, and became role models for their peers, families, and community.
Hundreds of elementary students — and their teachers and librarians — continued to enjoy Magic Tree House Teaching Bookshelves in their schools, donated through our partnership with the series' authors.
Eight Navajo high school students improved their chance for a brighter future after receiving an Eve's Fund educational scholarship
Eve's Fund leaders Barbara Crowell Roy and Bob Crowell and our ThinkFirst Navajo Injury Prevention Program gained national recognition after being named "USA Chapter of the Year" by the ThinkFirst National Injury Prevention Foundation
We updated our website and online donation platform to improve accessibility and knowledge of our programs.
As we usher in 2016, we do not plan to rest on the successes of the past year. We are committed to a year of purpose and action and will continue to provide hope and a future for the young people we serve. We appreciate and welcome your continued support.
In the process of getting ready for another busy year, we'd like to express our sincerest thanks for your support of the work we are doing in memory of our daughter Eve. Please accept our warmest wishes for a safe, happy, healthy and hopeful New Year.
Barbara Crowell Roy, President
Bob Crowell, Founder
P.S. As 2015 comes to a close, and if you haven't yet done so, please consider making an end-of-year charitable contribution to Eve's Fund. Click below to donate through our new secure site or send a check to Eve's Fund, PO Box 73, Dalton, MA 01227 (Your donation is doubled if your employer matches charitable contributions).
How You Can Help
Please help us reach for the stars in 2016! We rely on donations and grants to carry out our mission and are grateful for your contribution of any amount. Every dollar will be put to good use. You can make an online donation through our secure site by clicking the button below:

Or, you can send a check to:
Eve's Fund for Native American Health Initiatives
PO Box 73
Dalton, MA 01227
Please include your email and mailing addresses so we can update our records. We don't want to lose touch.
About Eve's Fund 
In 2005, Dr. Robert Crowell established Eve's Fund for Native American Health Initiatives in memory of his daughter, Eve Crowell, who died earlier that year. The overall mission of Eve's Fund is to promote hope and wellness among Native American youth through our literacy, injury prevention, and education programs on and around the Navajo Reservation in Arizona, New Mexico & Utah.
Thanks to the support of numerous individuals and organizations, Eve's Fund has made a positive impact on over 40,000 young Native Americans since 2005, but there are thousands more still living without hope for a better future. These are the young people we want to reach in 2016 and the years to come.
Eve's Fund is actively managed by Eve's family members along with a non-paid board of directors. Find out more at evecrowellsfund.org.