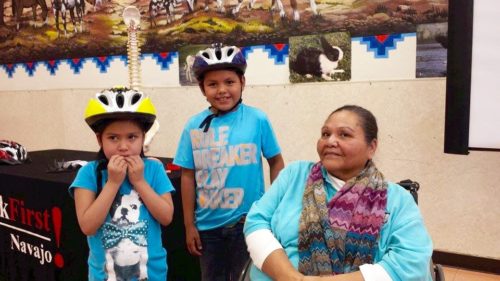 On the Navajo Nation, the largest and most remote Indian reservation in the United States, everyone has lost a loved one to a preventable injury or disease. Your donations to Eve's Fund are helping us save lives and provide a brighter future for an entire generation of Navajo children.
Those of us at Eve's Fund who work directly with the Navajo people witness the devastating, long-term effects of preventable injuries, which strike Native youths 3-4 times the national average. On this 27,000-square-mile reservation, traumatic injuries account for far too many deaths or permanent disabilities. And the truth is that most of these injuries can be prevented.
Thanks to the generosity of our donors, we have reached about 60% of our annual Eve's Fund holiday fundraising appeal. This year, if we reach our goal of $5,000, our ThinkFirst Navajo program will be able to teach hundreds more Navajo school children how to protect their heads and bodies from traumatic brain and spinal cord injuries. Likewise, they will be able to proudly wear fitted shiny new helmets while riding on bikes, horses, ATVs, or while playing sports.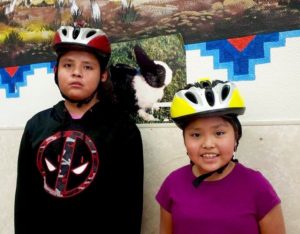 It is both humbling and heartwarming to see the difference one safety helmet can make—or one presentation that opens the eyes of today's Navajo youth to what they can do to keep themselves safe.  We cannot continue to do this important work without you.
Your support can give help us reduce the #1 killer of Navajo children, teens and young adults—traumatic injuries!
Please help us reach our goal by making a tax-deductible donation today. You can also give a gift in someone's name or memory and we will send them an immediate acknowledgement.
It is not too late to make an impact and keep a Native child safe from a disabling injury.
And for those of you who have already donated to this initiative, our sincerest thanks again and warmest appreciation for your generosity. We cherish your friendship and ongoing support.
Click here or on the Donate button below to make your gift.

Or, you can send a check to:
Eve's Fund for Native American Health Initiatives
PO Box 73
Dalton, MA 01227
Please know that we are grateful for your donations of any amount and are putting every dollar to good use.
Thank you for your generosity! Our warmest wishes to you for a happy holiday season and a bright 2017.

Barbara Crowell Roy
President, Eve's Fund
P.S. Please share this with your friends and colleagues.