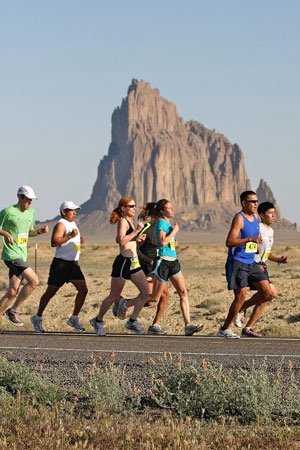 Runners from our ThinkFirst Navajo Injury Prevention program will join more than 2,000 participants in 34th Shiprock (New Mexico) Marathon on Saturday, May 13, 2017. Our team will promote injury prevention awareness and education as we run, jog and walk the 13.1 miles of the half-marathon. We will also try to raise funds for our program from people who believe in the importance of the work we are doing to save lives and prevent injuries of young Navajo people.
On the Navajo Nation, the death rate from motor vehicle crashes is more than three times the national average. An alarming number of brain and spinal cord injuries also result from vehicular crashes, domestic violence and other unintentional trauma.
Eve's Fund created its ThinkFirst Navajo program in 2005 to address these statistics and prevent fatal and disabling injuries among Navajo children and teens.
Since then, our health educators and VIPs (Voices for Injury Prevention) have taught almost 50,000 young Native people about injury prevention across the Navajo Nation in the states of Arizona, New Mexico and Utah. We have also distributed thousands of certified bike helmets to Navajo children.
Health educator Jodee Dennison, MPH, director of Eve's Fund's flagship program ThinkFirst Navajo is participating in her sixth half-marathon.
Catherine Zaharko, an Eve's Fund board member, who has completed several other half-marathons, is also participating. "We are continuing our commitment to the Navajo community and to keeping Navajo children as safe as possible," she said.
Barbara Crowell Roy, president and program manager of Eve's Fund and mother of Eve Erin Crowell, in whose memory Eve's Fund was created, will be participating in her first half-marathon. Four years ago, Barbara completed the 10K trail run at the Shiprock Marathon and while she was running thought to herself, "I want to come back here someday and run in the half-marathon." She recently added: "I can't think of a better Mother's Day gift to give myself. I will be running for Eve's Fund and for my daughter Eve, who would be so proud that I am no longer a couch potato."
For those of you who can, please join us at this year's Shiprock Marathon, organized by our community partner, NavajoYES. For marathoners, this race is appealing because it's the only one of its kind on the Navajo Nation. The event also holds a great deal of promise for those who aren't long-distance runners. For families from the surrounding Navajo community, activities include a Health & Wellness Expo, 5K and 10K runs and a "final mile" marathon for younger children.
We would also appreciate your support of our injury prevention initiative with a tax-deductible donation of any dollar amount. Please consider making a gift of $1 per mile ($13), $5 per mile ($65) or $10 per mile ($130) to help us save lives and prevent injuries on the Navajo Nation.

Thank you for your commitment. Please share.