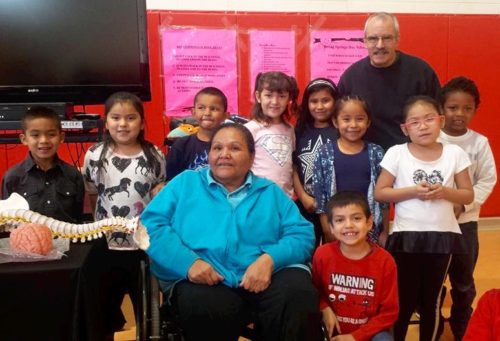 Please help us fill part-time positions for our expanding injury prevention education program on the Navajo Nation!
Eve's Fund for Native American Health Initiatives, an 12 year old community-based nonprofit organization that promotes literacy, injury prevention and education for Native Youth, is seeking part-time VIPs (Voices for Injury Prevention) and Health Educators for our award-winning ThinkFirst Navajo program. Position involves giving injury prevention presentations to students (K-12) in schools, chapter houses and other venues throughout the Navajo Nation in Arizona and New Mexico.
Read more about our program at: ThinkFirst Navajo Injury Prevention Program
Applicants Must:
Be committed to injury prevention education and willing to teach students how to avoid preventable injuries. If applicable, be willing to talk about your injuries and how it has impacted your life.
Be available to work 1-2 days a week with occasional overnight travel.
Have access to computer/Internet for training and communication.
Live on or near the Navajo reservation.
Provide own transportation for travel throughout the Navajo Nation.
We Provide:
Training and peer support
Generous hourly stipend for each presentation
Mileage reimbursement.
Send a letter of interest (and resume, if you have one) by email or Fax ASAP to: Jodee Dennison, MPH at jodeedennison@evecrowellsfund.org Fax: (505) 214-5912 Tel: (505) 870-3224
Please share this important information with anyone you know who might be interested.
Thank You!
Your efforts could save a young life or prevent a disabling injury.
 www.evesfund.org           Tel: (800) 646-2952          Fax: (505) 214-5912