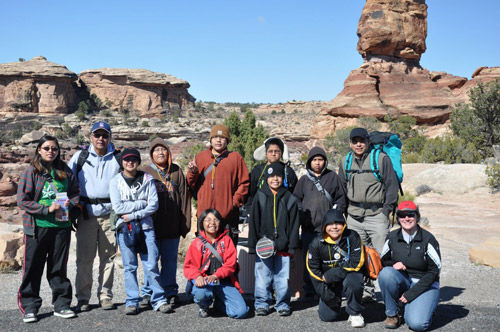 In 2010, we started Boy Scout Troop 928 along with Scoutmaster Echohawk Lefthand.  It was one of the few Native boy scout troops in the country. For six consecutive years, we provided leadership and financial support to help young scouts become hopeful, responsible men.
For the boys in the troop–who were all between 11 and 15 years old–weekly meetings in Red Mesa, Ariz., were a time to focus on the positive and forget about problems with school, friends, or family.
During camping trips and summer camp, the scouts developed character and responsibility as they learned new skills and put them to use for the good of the unit. More importantly, they increased their sense of pride and independence.
The troop also devoted a good deal of time to community service. The boys chopped and delivered wood to elderly Navajos, delivered water to local families, and picked up trash near community housing, schools, and local roads. The Troop Color Guard appeared at numerous school events, community programs, and public meetings.
Sadly, in 2016, upon the relocation of Echohawk Lefthand, troop activities were suspended.
Eve's Fund was proud to support Troop 928 because it is making such an impact on the lives of young Navajo boys. The scouts themselves recognized the important role the troop played in their lives:
"We are learning to be better role models to our fellow students, family, and community members.
This is preparing us for high school, college, and even life."
Click on the first photo to see slideshow in full view with captions
Want to read about previous community initiatives? Check out these links:
Tour de Rez
Children's Writing Workshop
Digital Storytelling Workshop
Girls Summer Camp
Red Eagle Challenge
To apply for financial support from our Community Initiatives program, complete our Funding Application.