Eve's Fund and  Books-a-Go Go distribute thousands of books to Navajo children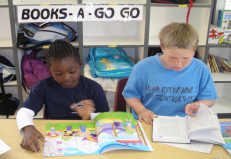 "It is great to work with Eve's Fund to get books in the hands of the Navajo children.  So glad to be a small part of a wonderful effort!" ~ Betty Metz
As part of our Jump Starting Literacy Program, Eve's Fund has partnered with Books-a-Go Go, a not-for-profit organization based in Jacksonville, Florida. Founder Betty Metz has been distributing books to children from low-income families since 2007.
In May of 2009, Metz sent her first shipment of 2,000 books to Eve's Fund. These books are being given out  through the Four Corners Regional Health Center in Red Mesa, Arizona. In 2010, Books-a-Go Go donated another 3,200 books to Navajo schools in New Mexico and Arizona.
"Reading is the key to any level of success in your life," says Metz. "If you cannot read, it's a huge disadvantage."
"Most children in need don't get a chance to travel outside of their local area, but through reading they can develop dreams they wouldn't normally have outside of reading; it opens up a whole world to them," continues Metz.
Eve's Fund is grateful to Betty Metz for partnering with us to promote hope to young Native Americans through our Jump Starting Literacy Program.