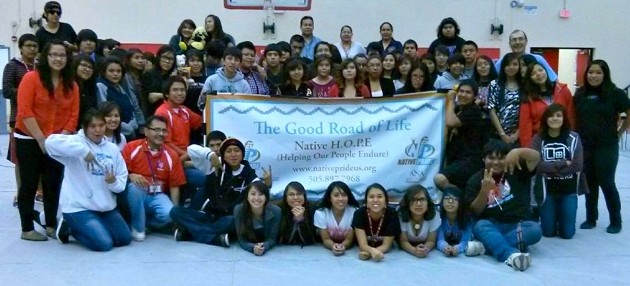 Since 2008, Eve's Fund has co-sponsored a suicide prevention program for young Native students in partnership with Native Pride, a non-profit organization that offers culture-based programs for prevention, wellness, and leadership development.
The Native H.O.P.E. (Helping Our People Endure) program uses a peer-counseling (youth helping youth) curriculum that focuses on suicide prevention and related risk factors such as substance abuse, violence, trauma, and depression. This strengths-based approach, developed by Clayton Small, Ph.D., incorporates culture, spirituality, and humor.
The suicide rate for Native American youth is three times the national average and suicide is the second leading cause of death in young Native people ages 5-24 years old.
Although talking about suicide is taboo for many Native Americans, Dr. Small encourages students to "break the code of silence" so young people in distress can reach out for help. In addition, program participants develop a strategic action plan of ongoing "booster" prevention activities. Read more about Dr. Small's program here.

"Once you choose hope, anything's possible." ~ Christopher Reeve
"Learn from yesterday, live for today, hope for tomorrow." ~ Albert Einstein
Want to read about previous community initiatives? Check out these links:
Tour de Rez
Children's Writing Workshop
Digital Storytelling Workshop
Girls Summer Camp
Red Eagle Challenge
To apply for financial support from our Community Initiatives program, complete our Funding Application.