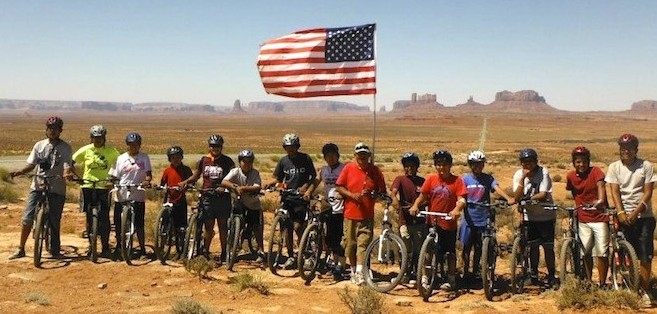 Photo courtesy of NavajoYES
Every year Tom Riggenbach, Director of NavajoYes (Youth Empowerment Services), leads groups of Navajo youth on the Tour de Rez, a summer-long trip that takes riders all around the Reservation. The entire Tour covers 1,200 miles, and the average rider of one week goes approximately 100 miles. About 200 riders participate, with volunteers to help with safety and trail-side education and community service projects.
For many years, Eve's Fund/ThinkFirst Navajo supported at least 10 riders per summer and purchased mountain bikes for the Tour. In addition, our funds were used to support trail restoration in the Carrizo Mountains, extending new routes for many miles.
We have been a proud supporter of this program because it promotes health and wellness for Native youth.
Want to read about other previous community initiatives? Check out these links:
Boy Scout Troop 928
Children's Writing Workshop
Digital Storytelling Workshop
Girls Summer Camp
Red Eagle Challenge
To apply for financial support from our Community Initiatives program, complete our Funding Application.