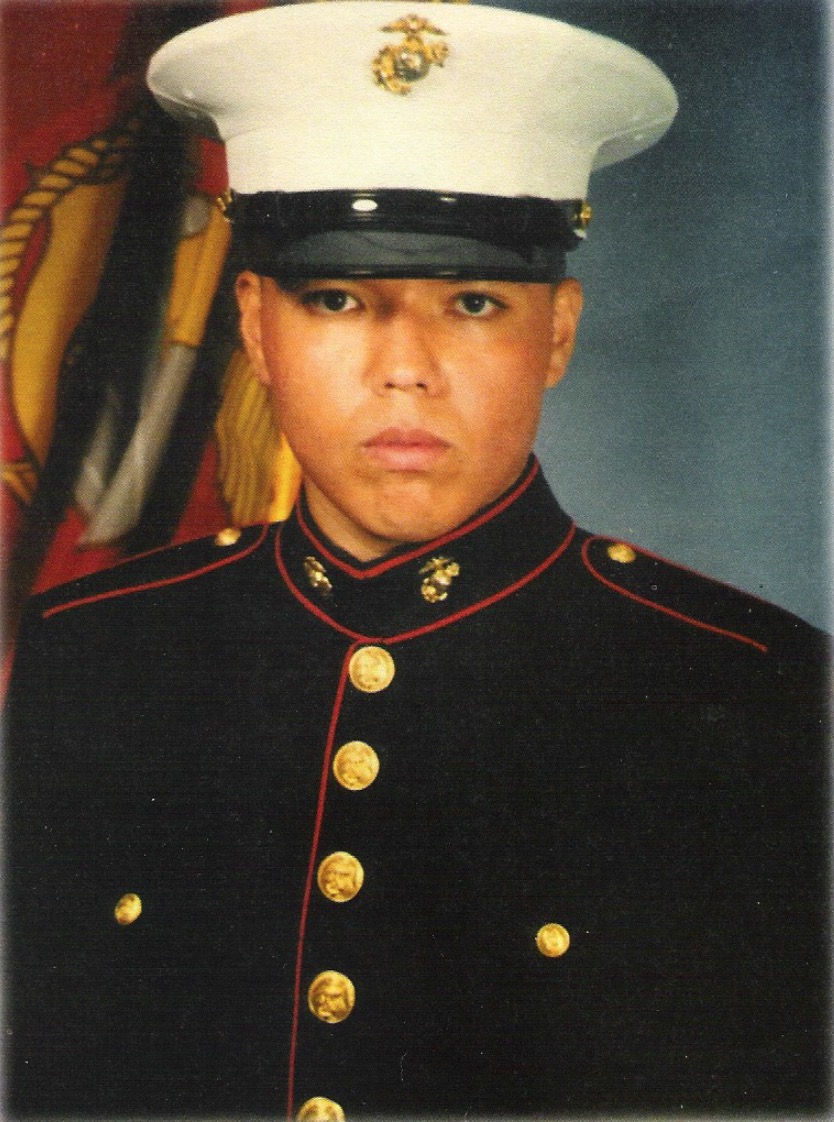 Corporal Michael G. Yazzie-King
May 20, 1985~June 11, 2016
When  Michael Yazzie-King, died suddenly in June 2016, he left two young sons, an older sister and an unfinished life.
Michael was a brother, a father and a son. He was a Marine, a welder and a mechanic. He was a football player, a motorcycle enthusiast and a proud member of the Navajo Nation. He is sorely missed.
To honor Michael's memory, his family has established a scholarship available to Navajo youths who want to pursue vocational training. The fund will be administered by Eve's Fund for Native American Health Initiatives as part of its ongoing scholarship program.
"Michael was not your typical kid to go off to college or the university and get a master's degree or a PhD," says his mother, Ela Yazzie-King. "He wanted to be a welder and he liked working on motorcycles, so he went off to school to become a certified welder and a mechanic."
The scholarship, open to 2018 graduates of St. Michael High School, in St. Michaels, Arizona, is designed to assist students who want to work with their hands. The family has committed to an initial scholarship of $5,000 for a student with evidence of financial need, recommendation from the school principle and acceptance into a vocation education program for fall of 2018.
"This is to help other Native Americans who want to pursue vocational training," Ela says. "We want to do this in order to remember Michael, to remember who he was and to be able to assist other individuals who are like him, who need some help, who want to continue with their education in a different way."
On the Navajo Nation, unemployment tops 60 percent and vocational training is vital for some families to put food on the table. When young men and women take out loans to pay for an education, they sometimes find it hard to pay those back.
"As they start families, it gets even more challenging," Ela says. "We want to help as much as we can with this scholarship."
Michael was born at the Rehoboth McKinley hospital in Gallup, New Mexico, on May 20, 1985. He came into the world "full of energy," his mother says. "He came with a lot of noise, a lot of sound."
From the beginning, Michael was very active, says his father, John King. John, who is German and Irish, moved to the Navajo Nation in 1976. He and Ela have been married for 37 years and had two children: Jessica and Michael. Both served in the Marine Corps.
"Michael was always getting in trouble," John says. "He was running all over the place, jumping on things, climbing on roofs, not always paying attention to where he was going. He was very, very active, very ambitious."
Men on both sides of Michael's family served in the military. His maternal grandfather, Arthur Shorthair, was in the Army during World War II, and his father and paternal grandfather both served in the Airforce.
Michael was attracted to the Marine Corps because it offered a chance to test his own limits, John said. He served as a corporal in the 1st Battalion, 4th Marines from 2004 to 2008 and was deployed once to the Iraq-Syrian border.
After leaving the military, Michael earned his welding certificate and enrolled at the Motorcycle Mechanics Institute in Phoenix. He made his home in Glendale, Arizona, and had two sons: Aiden and Urijah. Although they lived far from the Navajo Nation, Michael often took his sons home to instill in them a love and appreciation for their Navajo heritage.
"He loved his two boys deeply and profoundly," John says. "He would do anything for them to protect them, to guard them, to keep them safe, to teach them who they were and where their home was."
Watch this video to learn more about Michael's and the scholarship dedicated to his memory:
Donations to the Michael G. Yazzie-King Scholarship can be made online at: https://donatenow.networkforgood.org/EvesFund-ThinkFirstNavajo

If you wish to make an offline donation, you may send a check to us at: Michael G. Yazzie-King  Scholarship, c/o Eve's Fund, PO Box 73, Dalton, MA 01227.
Click on the album below to see some photos of Michael.