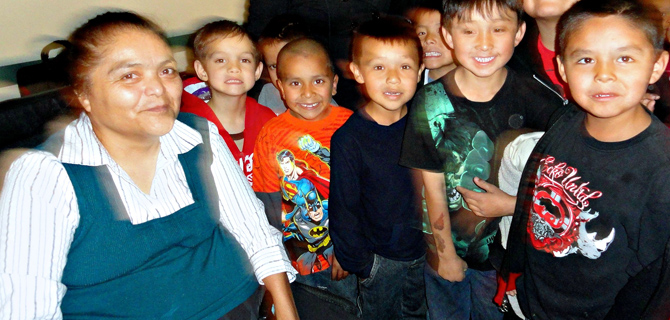 On the Navajo Nation, the death rate from motor vehicle crashes is more than three times the national average. There are also an alarming number of brain and spinal cord injuries due to vehicular crashes, domestic violence, and other unintentional trauma.
We created our ThinkFirst Navajo program in 2005 to address these statistics and prevent fatal and disabling injuries among Navajo children and teens.
Teaching Students About Injury Prevention
To reach Navajo youth in grades K-12, we give free presentations at schools, chapter houses and in other venues across the Navajo Reservation. We owe much of the success of our program to our VIPs (Voices for Injury Prevention), all Navajo adults with paralysis. They understand Navajo culture and are willing to openly share their personal stories of how they became paralyzed.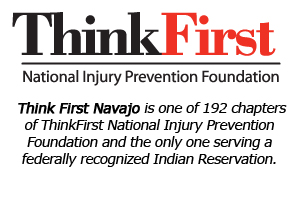 At each school, the VIP is joined by one of our trained Health Educators who rounds out the presentation using an age-appropriate, science-based curriculum from ThinkFirst National Injury Prevention Foundation.
Since its creation in 2005, our ThinkFirst Navajo program has taught almost 50,000 young Native people about injury prevention across the Navajo Nation in the states of Arizona, New Mexico and Utah.
To schedule a presentation, please fill out our Online Interest Form to submit it to our chapter director or call Ms. Jodee Dennison at: (505) 870-3224. You can also FAX the form to us at: (505) 214-5912.
Think
First

Navajo Named Chapter of the Year in 2015


In May of 2015, after 10 years of operation, our ThinkFirst Navajo program was named  "Chapter of the Year" by the ThinkFirst National Injury Prevention Foundation.

"ThinkFirst Navajo was selected to receive the Chapter of the Year award because its programs meet each of the three core elements of the ThinkFirst mission: education, research, and advocacy," said TFNIPF 2015 Awards Committee Co-Chair Michelle Gibler, Ph.D. "Members of the ThinkFirst Navajo team travel thousands of miles across three states to deliver injury prevention education to the people of the Navajo Nation."

We were truly honored and proud to receive this prestigious award. Click here to read more.

Distributing Safety Helmets

Most kids on the Navajo Nation have never learned about helmet safety. That's why it's an integral part of every ThinkFirst Navajo presentation.

Through fun, interactive demonstrations, we teach kids the importance of wearing a properly fitted safety helmet, whether they're riding a bike, horse, off-road vehicle, or skateboard.

We also distribute helmets at schools and community events such as the Shiprock Marathon and Tour de Rez. If you are involved in a children's event and would like to be considered for a helmet donation, please contact us here through on secure web form.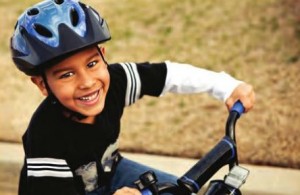 Click to view our ThinkFirst Navajo photos