On February 24, 2005, Eve Erin Crowell, our beautiful daughter, sister, niece, cousin, colleague, and friend died tragically in West Hollywood, CA. Today, 10 years later, we are remembering her and how much she meant to so many people.
We asked those who knew Eve to share how they want to remember her. One common theme is how much Eve inspired others with her energy, intelligence, and enthusiasm for life. Below are some excerpts from what people have written accompanied by some photos of Eve with them.  Double click photos to enlarge.
Eve's spirit lives on in our hearts, our memories, and in the nonprofit organization we created in her name — Eve's Fund for Native American Health Initiatives. We also developed a memorial website for Eve, which we encourage you to visit after reading this blog.
Every day, we miss Eve. We miss her smile, laughter, beauty, and spirit. Our hearts are warmed by how many people's lives she impacted in a positive way and how many people loved her. We are grateful for your support of us and of Eve's Fund.
With loving thanks from Eve's parents, Barbara and Bob, and her brother, Wyatt.
---
Tributes to Eve Crowell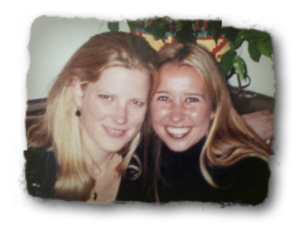 "I can't believe it's been 10 years. Eve was such a good friend. I have many fond memories of biking along the Pacific Coast and running in the Hollywood Hills. Eve inspired me in her energy for life. I will miss her always." – Stacy Paz
"The loss of Eve, my cousin, 10 years ago still brings sadness for all who knew her. Although I didn't see Eve enough, I miss her beauty, her tenacity, her intelligence, and being a member of our family. As time passes and the loss gets less painful, the memories never fade. I remember the family gatherings, I think of Eve on November 4, I think of Eve when I see Eve's Fund on social media, and all the "what ifs" of life. Multiply those memories by all of her friends and family and Eve is never forgotten." – Anne McMonagle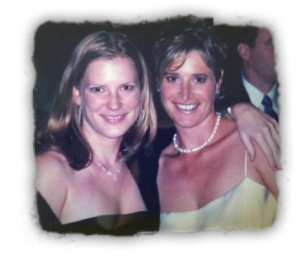 "Eve was my friend who was so full of life. I could always count on her to bring her vivacious self to whatever we were doing — working out, studying for law school, commiserating over work, life, and relationships. Eve and I were together on so many important milestones in each other's lives — graduations, weddings, etc. I miss her all the time but know her spirit lives on."  – Kelly Scott Duncan
"Much love for my cousin…I think and talk about her often!" – Kyle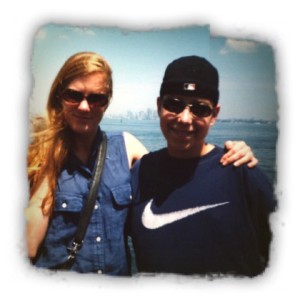 "Happy Tenth Anniversary, Eve. Know that you are in a better place. You were a beautiful and striking young woman,  exceptional and talented in so many ways. Rest in peace and love." – Aunt Mary Jane
"Eve excelled academically, carried herself with class, and will never be forgotten by those who knew her at Kirkland & Ellis." – Bob Boldt  
"I will always hold a very special place for my memories of Eve, both in heart and mind. It's hard not to do so for a life that was filled with passion, excitement, mystery, and brilliance. I was, like so many others, drawn to Eve on so many levels, but it was her laugh that floored me and had me never wanting to leave her side. Eve and I traveled fairly extensively together and I introduced her to all of my immediate family and to many close friends. Everyone loved her. We shared so much — places, people, thoughts — and regularly did yoga together. I have thought of her in every yoga class I have walked into for the past 10 years. I share your pain of Eve's passing, but please know that I will never forget her and that she is a part of who I am today." – Cary Hurwitz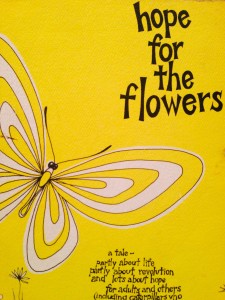 "Beautiful Eve — You are always with me. Mostly, I hope you're proud of me, despite the few missteps I've made along the way. I came across this passage you wrote to me in 'Hope for the Flowers.' I hope you don't mind my sharing it. Finally, I have learned it's good not to know who I am. It's quieter and more peaceful without the attachments and identities I acquired. In the quiet and the stillness, the things I can't see or touch and what is truly a part of me — like you, Eve, and your beauty, courage, strength, and curiosity, become greater and more present. You have never left me. I know you know, those 5 extra minutes I ran today, were for you." – Abs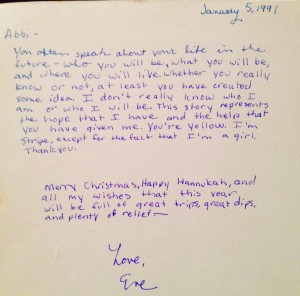 "Eve was an exceptional soul, one could never forget. I remember a lot about Eve. Sophomore year I had biology class with Eve. I remember her as one who participated in class quite a bit. I also remember her coming into class one day with her face painted white as part of a Students Against Drunk Driving initiative. The one thing I remember most about Eve was Ethics class Junior year. It was the year of Operation Desert Storm. There wasn't much sentiment against the war but I remember Eve and I taking the anti-war side. It's also in that class that we learned about Native American issues. I don't recall specifics but I knew Eve took an interest in that. I always wondered if that was the first thing that sparked her interest in that field." – Ryan Stewart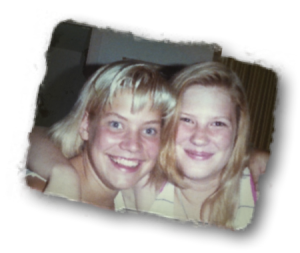 "It seems so surreal that this time of year is upon us and it's now been 10 years. I can't imagine what the last 10 years would have been like had Eve been with us. No doubt, more lively and joyful.  I know how much I have missed her and how many laughs and crazy adventures with her I have missed out on! Not a time goes by that I'm with Meggie that we don't reminisce and reflect on how much she is missed. I tell my daughter about her all the time. I will keep the memory of Eve's brave and bold spirit with me forever. And I still feel so lucky to have known her and had the many unforgettable times together we had. Thinking of you with so much love!" – Sarah
"My memory of Eve is at Beth and Wyatt's wedding. She was such a lovely young lady in every way. Eve was beautiful, fun, sweet, and kind. We are so thankful that we got to know your beloved daughter. Much love to you, Bob, and Wyatt." – Libby Boggess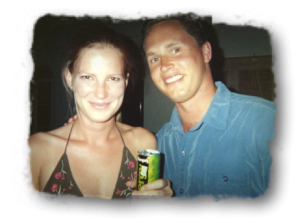 "I met Eve on the first day of law school at Pepperdine. She stood out first of all as the most attractive girl (hands down) in our class with gorgeous strawberry blonde hair and a smile that lit up the room. I will never forget her confidence that day. I was absolutely mortified to raise my hand or answer any questions posed by the professors. Eve, on the other hand, would immediately raise her hand and answer every question oozing absolute confidence, humor, and charm." – Tyler Wilkinson
"Eve. Eve was the name I kept hearing over and over again. I heard these words from my sweet husband (boyfriend at the time) who adored her so. Smart. Beautiful. Funny. Eve was all those things when I met her. Crazy in a good, fun way. The friend everyone wants to call first to go out with. She always put a smile on my face. She was just Eve. Whenever I see a strawberry-blonde beauty I think of her. So, Eve's memory is still alive. We think about her a lot. We think of her when we see freckles. Tyler still talks about her. She is still with us." – Christine Wilkinson
"Eve was just a cut (or two or three) above. While I was teaching her to parallel park in a vacant Tucson church parking lot, Eve suddenly became more attentive when I told her she had just wiped out a BMW. Her parking improved markedly when she could visualize parking between a Jaguar and a Mercedes! We had the most earnest discussion…she wondered what I was doing to prepare for the Millennium. Who asks those questions? Eve!! Eve…we are still entertained and inspired by your memory. Thanks, Barbara and Bob, for keeping Eve's memory alive in a most important way!!"  – Mary Lee Madison
"Eve was my prom date in high school, and a very close friend during those years. Asking her to the prom was easy, it was a natural choice. She was so warm, and we shared a strong connection that I knew with her it would be a fun time. She was an integral part of my youth, and I remember a very important conversation with her while sitting under a tree and the moon in a foot of snow. She told me to let go and be myself, or something like that. In high school that's a big idea. It wasn't so much the content though as the context, that we could share meaningful, personal ideas together. What I remember most about every interaction with Eve was her beaming smile and bright golden hair, her aura of joy and kindness at all times." – Chris Davis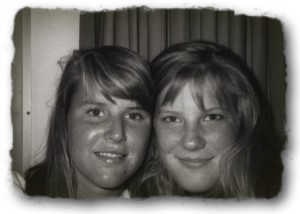 "She was a friend like no other. What an incredible success she was at everything she tried. I always had the best time whenever we were together. She was the first I would call in good and bad times. Life will never be the same without her voice and songs! Eve will never be forgotten by anyone who ever knew her. She is one of a kind and so missed. I hope she found peace." – Meggie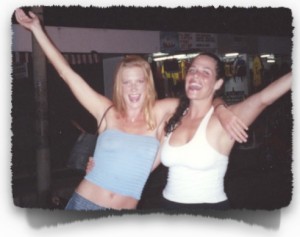 "I remember the first time I saw Eve on the grass in college: We called her "Super Frosh" because we thought she was a freshman and were obviously totally taken aback by her breezy, unselfconscious, seemingly uncomplicated social arrival at Wesleyan. After that there are endless memories — hysterical, playful, loving, sad, really intimate wonderful memories. The joy of really getting to know her our senior year, of learning what a sensitive, warm, unexpected person she was. And then the joy of realizing we were going to stay in touch after college, and continue to get to know each other more deeply and differently as we got older. I think about the sad stuff less and less as time goes on. I think about how much I loved being close to her. I named my daughter Charlotte Eve after her, so Charlotte makes me think of her every day, too.  I will always love Eve. – Emma Jacobson-Sive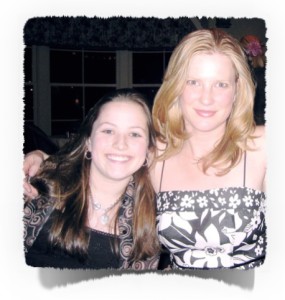 Eve was beautiful inside and out. She is deeply missed. Her memory continues to remain strong in our family and will last forever. I hope you have found your peace and happiness and are smiling down on us. I love you. -Meredith Lepley
No matter how we sow and reap
The end of all is endless sleep;
From strife a merciful release,
From life the crowning prize of Peace.
To make a donation to Eve's Fund in memory of Eve or another loved one, please visit our donation page.
Please share.